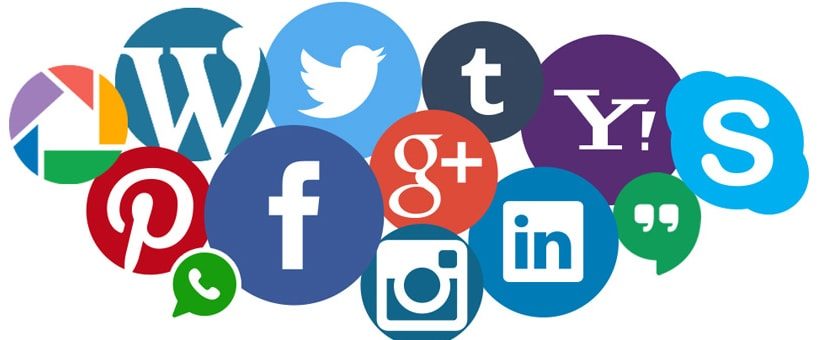 Every day seems to be a new marketing revolution. From search engine optimization, inbound, automation, targeting and now Social media. Whatever the latest high-tech trend, the basic storyline is always the same. If you don't master the newest platform, methodology, technology, or system, you and your company are doomed to obsolesce.

How does Social media marketing works ?
There are very different ways to improve your small business marketing and using Social Media is one of the most trendy and efficient solution.
Social media marketing, or SMM, is a form of internet marketing that involves creating and sharing content on social media networks in order to achieve your marketing and branding goals. Social media marketing includes activities like posting text and image updates, videos, and other content that drives audience engagement, as well as paid social media advertising.
Brands use social media to reach new customers, build a loyal audience and respond to consumer reviews, while the private social media user wants to keep up with friends, stay current and participate in social conversations about matters large and small.

Wether if you are a large business or a small one you will not have the same strategy. If you're a larger company, focus on using social media to connect with a larger audience in order to get national exposure for your brand and products. If you're a small, local business, use social media to build a dedicated, loyal customer base by offering the personal touch that only a local business can provide. The customer wants to feel unique as if the product had been created just for him.

Social media users can now publicly discuss their experiences with brands or products, forming large coalitions of interest that exert vast social pressure on brands and other organizations. From the presidential election to the newest cereal, everything is now a matter of public interest.
However, simply having social media accounts isn't enough. You need to improve your presence on social platforms.

First of all, keep your account information updated and accurate. If something about your business changes, your social media profile should change too. Make sure your website, address, hours, logo, and pictures are all current.

Secondly, you must post fresh content very often. Don't create an account and then forget about it , you need to post new content on your social media pages. Frequent posts keep you in front of customers' faces. Post about new products and sales, and show your followers what you and your business are up to. You can also just repost a picture or write something in order to interact with your audience. The more you have content the more your audience will create a solid link with you.
Some statistics show the huge impact of social media on companies. According to Hubspot, 92% of marketers in 2014 claimed that social media marketing was important for their business, with 80% indicating their efforts increased traffic to their websites. And according to Social Media Examiner, 97% of marketers are currently participating in social media—but 85% of participants aren't sure what social media tools are the best to use.

Which social media for my company ?
Actually there is a range of possible solutions as there is at least 4 main useful social media.

Facebook
At first Facebook was a simple networking tool for college students (mainly designed to allow students to let their friends know where the parties were, and to look at the pictures from those parties afterward). Now a days, companies also use Facebook with professional intention.
By creating a "page" for their business which Facebook users can follow, businesses can then use their page to market their products, offer deals, and build their brand. There is no doubt that it remains a crucial channel for businesses to connect with their prospects. Marketers will just have to adapt to the new reality and new changes such as :
– opting for video content since the new Facebook algorithm is known to prioritize videos. Plus, adding subtitles and captions — yes, most people watch videos on mute.

Twitter
Like Facebook, Twitter began as a social networking tool—a way for friends to keep in touch—but has blossomed into a full-scale business marketing tool. Twitter uses 140 character "tweets" (short messages) that appear in the homepage of all users who "follow" the account. Businesses can use these to release news, market their products, and direct attention to special offers and new content. The fact that messages are short make them having more impact on users : pure and simple. #Hashtags can also be searched for on twitter, meaning that followers or users looking for info on that topic can be directed to your account by simply attaching a hashtag to particular concepts or ideas in your business's tweets.

To know more about the use of social media, you can find information on our E-book, section : " Step 3 : Boost your traffic thanks to social medias".

Instagram
Instagram is a visual medium. The old saying "looks don't matter" does not apply; visuals are a crucial element. That's why it is an important social media to be in, its instantaneous character with pictures but also Insta stories allows the users to be aware directly and users really like the immediate side. Plus, Luckily, there are tons of websites and blogs dedicated to photography and photo editing tips to help you build or refine your visual skills.

Once you've signed up, go into Settings and opt to "Switch to Business Account." Doing this will give you the ability to add details such as your address, email address, phone number, and other company information.
Also, remember that Hashtags are another important aspect of Instagram. Like Twitter, hashtags are used to group together topics, communities, searches, and trends. Use them to increase your visibility in searches and to connect with consumers and partners.

Lastly, Instagram offers you several ways to tell your story. Unlike Twitter and LinkedIn, where all posts are structurally identical, Instagram allows you to post in different formats. You can post a single photo, a longer video, essentially a collection of multiple photos and videos compiled into one post.

Linkedin
It is one of the more professional social media marketing sites. LinkedIn Groups is a great venue for entering into a professional dialog with people in similar industries and provides a place to share content with like-minded individuals. It's also great for posting jobs and general employee networking.
Encourage customers or clients to give your business a recommendation on your LinkedIn profile. Recommendations makes your business appear more credible and reliable for new customers. Also browse the Questions section of LinkedIn; providing answers helps you get established as a thought leader and earns trust.

Regarding professional softwares, to help you managing your social medias at the same time, the most used are :

HootSuite
Hootsuite is a social media management platform. The system's user interface takes the form of a dashboard, and supports social network integrations for Twitter, Facebook, Instagram, LinkedIn, Google+ and YouTube.
Whether you are a user handling multiple accounts, or an agency that handles hundreds, HootSuite makes it easy. It's easy to add accounts, easy to schedule posts across all major platforms and easy to add account managers. In addition, the company also has a robust training platform that teaches not just the tools, but how to think about social marketing as a whole. As a package, the best out there for the price.
Here a Hootsuite dashboard example.


Hubspot

While there are a lot of tools out there that let you monitor and publish to social accounts, we recommend platforms such as Hubspot where you can not only monitor and publish but also get closed-loop reporting data. That means you're not just seeing what channels drive the most engagement, but you can track further down the funnel to see what posts and channels drive actual leads and sales.

Social media marketing is a perfect channel for sharing your best site and blog content with readers. Once you build a loyal following on social media, you'll be able to post all your new content and make sure your readers can find new stuff right away. Plus, great blog content will help you build more followers. It's a surprising way that content marketing and social media marketing benefit each other. Thanks to SMM you will stack all the odds in your favor.